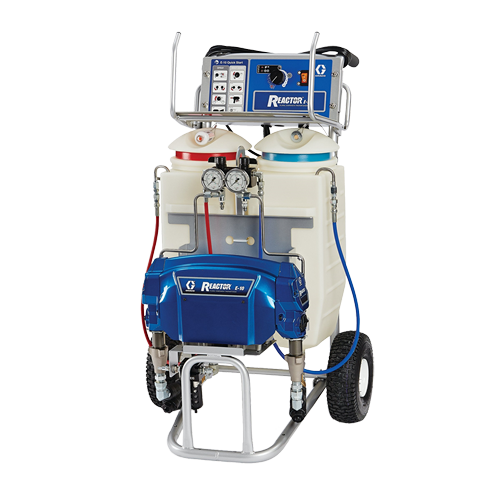 Graco Reactor E-10 Standard
Electric polyurethane foam proportioner
The convenient and electric powered Graco Reactor E-10 Standard is the perfect tool for minor polyurea projects or polyurethane foam applications. The Graco E10 is a small and ready-to-use-system, ideal for getting small jobs done fast but with full performance.
The machine is designed to be operated by one person, which saves both time and money. The configurations of the Graco E10 are ideal for plural-component spray/injekt, touch-ups and joint-fill jobs.
Graco E10 is also:
designed with on-site portability, making it ideal for hard-to-reach areas
equipped with smart controls for easy setup and operation
the machines electric power is very low drawn, and can be plugged into standard outlets.
The Graco E10 polyurea proportioner eliminates pressure fluctuations, which gives you a consistent application pattern and a smooth result for your spray/injekt insulation.